INDONESIA BEST DESTINATIONS
BALI
Bali,world-wide famous Tourist destination. You can find Traditional Villages, Museums, Well being Centres for yoga and meditation, Balinese, Hindu and Buddhist Temples (spiritual adventures) , Holy Springs, Waterfalls, Water Theme Parks.
Attractions and Activity
Bali Bird and Reptile Park – Jl. Serma Cok Ngrh. Gambir, Singapadu,Gianyar
Bali Zoo Park – Jl. Raya Singapadu, Sukawati, Gianyar
Bali Safari & Marine Park – Jl. Bypass Prof. Dr. Ida Bagus Mantra, Gianyar
West National Park – Jl. Raya Cekik, Gilimanuk, Jembrana,
Butterfly Park – Jl. Batukaru Sandan Wanasari, Tabanan,
Botanical Garden Bedugul – Ds. Candikuning, Baturiti, Tabanan
Indonesia Jaya Reptile Park – Ds. Mengwi, Badung
Bali Elephant Ride – Jl. Sidakarya No.163, Sidakarya,South Denpasar, Denpasar
The Umalas (horse ridding) – Jl. Lestari No.9X Br. Uma Alas Kauh, Kerobokan
Ayung River Rafting – Jl. Diponegoro 150-B, Denpasar
Mega Rafting – Jl. Hayam Wuruk No.144, Denpasar
Sobek Bina Utama –  Jl. Tirta Ening No.9, Sanur
Bali Rafting – Jl. Bypass Ngurah Rai No. 297, Sanur
Waterbom Bali – Best Water theme park in Asia. 
Hot-air Balloon – Kawasan BTDC Blok C4 Nusa Dua, Nusa Dua
Bali Slingshot – Jl. Kartika Plaza No, Kuta, Kabupaten Badung
Underwater SeaWalk – Dive with a helmet and walk at the bottom of the sea. Enjoy the view of the amazing sea life.
Beaches
Kuta, Suluban, Nusa Dua, Sanur, Benoa, Padang Bai, Jemeluk, Soka, Medewi(surfing), Delod Brawah, Perancak, Love Ina (fishing, swimming, diving, snorkeling, dolphins),
Kuta beach-tourist's favorite destination,white-sandy beach, excellent bars, restaurants, discotheques, nightlife. Souvenirs, beach wear, batiks,latest CDs selling cheap along the main road.11 km south of Denpasar. 30 mins ride from Tegal bemo station
Shopping
It's a normal practice to Bargain in Bali, to get a good price. It makes shopping real fun. Also you would need cash as most local shops do not accept credits cards. Shops usually opens from 10am to 11pm.  
Kumbasari traditional market.
Jalan Gajah Mada, Denpasar. In Kumbasari you are able to buy cheap souvenirs, batiks, handicrafts, paintings and jewelry. It's Bali main and largest traditional market.
Sukawati Art Market
Main road of Sukawati in Gianyar. Two storey building selling handicrafts and traditional handmade products. It's pack every weekends and festive seasons with Tourists and Locals
The Gianyar Night Market
Jalan Ngurah Rai, Gianyar, Mon – Sun 17:00 – 02:00. For hungry locals and Tourists staying at main resorts in Ubud. Cuisine and local Bali food at cheap prices, clothing, accessories and kids items. Must try Bali famous Babi Guling (Suckling Pig),BBQ Pork Ribs,Bebek Goreng/ Bebek Betutu (Fried/Smoked Duck),
Celuk Village
5 km from Denpasar on the main road (Denpasar to Gianyar). Famous for gold and silver workmanship. You can buy jewelry, earrings, bangles, hair pins, broaches, rings and many other accessories, some are decorated with pearls.
Kuta Beachwalk
Jalan Pantai Kuta. A beautiful grand shopping complex with numerous international brands,restaurants and entertainment. Expect price range on a higher side.(no price bargaining here)
Temples
Top 3 Temples Destinations to Visit
Ulun Danu Beratan
On Lake Beratan, a lake resort area in Tabanan region. 1,200 meters above sea level.You can take photos with wild animals, Lake activities like scenic swan boat ride,fishing and must visit the 5 temples and 1 Buddhist Stupa. Most importantly The  
Tengahing Segara Temple 11 roofs and Lingga Petak Temple 3 roofs.

Tengahing Segara Temple devoted to Lord Vishnu and lake Goddess Dewi Danu. Lingga Petak Temple have a holy well and only the priests can draw the holy water.
Tanah Lot
Tanah Lot Temple, an important Bali's landmark on the offshore island.A Hindu ancient shrine on top of the rock formation.
The temple is located in Jalan Raya Tanah Lot, Beraban Village, Kediri, Tabanan The Temple is also surrounded by many smaller shrines, restaurants, shops and a cultural park with regular Balinese dance performances.
Goa Gajah (Elephant Cave) temple
An Eleventh century cave, located in Bedulu Village, sub-district of Blahbatuh, Gianyar close to Ubud-Gianyar road. The Cave was used during Hindu-Buddhism era for yoga and mediation. It was mistaken as an elephant cave when unearthed because of the Cave upper entrance,which looks like an elephant trunk.


BOROBUDUR
Borobudur, a Mahayana Buddhist stupa and temple ground dating from the 9th-century, located in Magelang Central Java. An UNESCO World Heritage Site. Borobudur is the largest and greatest Buddhist monuments in the world. Construction started at 750 AD and it took 75 years to complete.
Borobudur is now an important place of worship and pilgrimage for Indonesian and Overseas Buddhists.
Thus in order to preserve the temple from further damage, losses or deliberate vandalism its rule that there should not be more then 30 people in a group and the group must be accompanied by Taman Wisata Candi Borobudur (TWCB) staff members.
Check out Borobudur Half or Full Day Private Tours
YOGYAKARTA
Yogyakarta, a very special city, fill with friendly and welcoming people.
To the locals its "Jogja". People regard Jogja as the cultural capital of Indonesia as it's known for its traditional arts and cultural heritage.
Prambanan temple compound.
Hugh compound with 3 main Hindu temples that dedicated to Shiva (destroyer of the universe), Vishnu (keeper of the universe), and Brahma (creator of the universe). 
Originally there were a total of 240 temples in Prambanan but the Yogyakarta earthquake had destroyed some of them. 
Prambanan is said to be the most beautiful and graceful Hindu temple compound in the world. When visiting Prambanan do not miss out the Ramayana Ballet performance.
Ramayana Ballet at Prambanan 
A 2 hour spectacular Javanese traditional show, which is close to the Prambanan temple. This traditional Java dance performs the Ramayana folk story.The performance is just so beautiful.
Depending on the months,  the performance will either be held in the open air (May to October/November) with Prambanan Temple at night as background or
In-indoors for other months due to raining season.
Mount Merapi 
The most active volcano in Asia with its track record of eruptions.Mount Merapi means "Fire Mountain" in Javanese. It last erupted in 2010 and still active. Thus it dangerous and mesmerizing at the same time.
There are jeep tours from Yogyakarta to explore the volcano at sunrise and then proceed 2 hr drive for an adventure at the Jomblang Cave.
Jomblang Cave
A vertical cave. To enter the cave, you will be lower down by a rope one by one. Going down 60 meters with the rope is a the start of a beautiful adventure.
Please do bring along a torchlight as the cave is dark. Do be extra cautious during walking as the trail is muddy and slippery too. Helmets, fisherman boots (Please wear your own socks) are provided.
After you are lower down, explore the cave and its natural beauty.The view at the end of the cave was spectacular where the ray of lights fall at exact noon through the top of the cave that had collapsed, forming a round hole !
Pindul Cave
Go tubing on a Magical Journey- the underground river of the beautiful Pindul cave, 7km south of the city centre Wonosari, Gunung Kidul near Jomblang Cave.
Imogiri Pine Forest  
About an hour from Yogyakarta if not crowded/jammed. Beautiful foggy forest, a place to take selfie photo with pine tree. Then proceed to Mangunan Fruit Garden.
Mangunan Fruit Garden 
In village Mangunan, sub district Dlingo, Bantul. Famous as the garden above the clouds. Refreshing atmosphere, excellent scenery, seasonal fruits,a great place to enjoy sunrise and sunset, the curvy Oyo River flowing.From here you can proceed to Seribu Batu Songgo Langit.
Seribu Batu Songgo Langit
Its also known as "One thousand stones that support the sky". A new tourist attraction. 2hrs drive from Jogja-located in Sukarame Village, Mangunan Village, Dlingo District, Bantul.
It's a pine forest with lots of giant stones, plenty of selfie spots,wooden bridges that connect trees to trees,Rows of hobbits houses, Flying Fox rides, Cool air.
Timang Beach
A white sand beach 3 hrs drive from Jogja. Located in Gunungkidul. As Cars are not accessible to the beach, you will have to stop at the nearest village and hire a motor bike with the driver (expect a bumpy ride) to go to the beautiful beach.
To go over to the cliff, you can either choose the Gondola or walk on the hanging bridge.
Timang is famous for its fresh lobster do try the very delicious lobster and enjoy the beautiful beach.
Back to the City
Jogja city has two Alun-Aluns-large central open lawn squares.
Alun-Alun Selatan (South) and Alun-Alun Utara(North) – located behind and infront of the King's palace.
This is where you can take the peddle bicycle light cars. Take a spin on one of these bright coloured cars and go round the road. It's real fun
Well, after all the touring try the Jogja Spa. Jogja have lots of good spa and you will be spoilt for choice.
JAKARTA
Capital of Indonesia. Here you will find a mixture of Javanese, Malay, Chinese, Arab, Indian and European and this has a big influenced its architecture, language and cuisine.
The National Monument– in the centre of Merdeka Square,Central Jakarta.To commemorate the struggle for Indonesian independence from Netherlands.
Istiqlal Mosque – Jl. Taman Wijaya Kusuma, Ps. Baru, Sawah Besar, Kota Jakarta Pusat, Daerah Khusus Ibukota Jakarta 10710. The largest mosque in Southeast Asia.
The National Museum of Indonesia – located in Jalan Medan Merdeka Barat,Central Jakarta.
Taman Mini Indonesia Indah – Ceger, Cipayung, East Jakarta City.250 arce Culture Miniature Park.
The Jakarta History Museum – Jalan Taman Fatahillah No.1, Pinangsia, Tamansari, Kota Jakarta Barat, Daerah Khusus Ibukota Jakarta 11110
Ancol Dreamland – A resort,theme park,golf destination located along Jakarta's waterfront.
Dunia Fantasi – International Theme park north of Jakarta.
Sea World Indonesia – aquarium with sharks
Atlantis Water Adventure – Water park
SnowBay Waterpark TMII – Water park
Waterbom Jakarta – Massive water park with slides
LAKE TOBA
The largest volcanic lake in the world.The lake is in Sumatra, Indonesia.
Visit Parapat (where you find the most tourists),
Samosir Island ( in the middle of the lake-Toba Batak culture comes alive),
Tongging fishing village(Northern end of Lake Toba- incredible steep view ).
Stay there for a night or two, relax and enjoy the fresh air, food and incredible view.
Go Cycling, Swimming in the lake, camping, paragliding, jet skiing all outdoors activity.
BATAM
Free trade zone. Just 45mins ferry ride from Singapore, a weekend getaway or a day trip.
Wonderful beaches for all water activities-windsurfing, flying fox, jet skiing, Kayaking and para sailing.
Excellent seafood.
Grand hotel resorts with spa/massage package.
Big shopping malls with cheap prices @ Nagoya Hill Shopping Mall, BSC Mall.
Have a round or 2 at go kart.
Temple visit- Tua Pek Kong Temple, Maha Vihara Duta Maitreya Temple
Vibrant nightlife.
BINTAN
Also a Free trade zone. Just an hour or two ferry ride from Singapore.
An upscale hotel resort destination offering beautiful golf courses, quiet white beaches, seafood dinning and lots of water sports. Just relax and enjoy the natural beauty of Bintan.
Have you been to Indonesia for a holiday or planning to go ? Share with us your travel stories in the comment box below or share our page in your Social network.
A PLACE TO STAY IN INDONESIA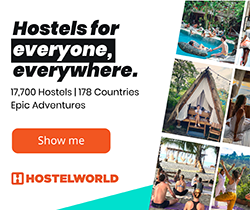 ACTIVITIES & TOURS