Singapore a Garden City, clean and green.
The island is also known as The Lion City or The Little Red Dot.
Singapore is easily accessible by All International Airlines arriving through Changi International Airport.
Passengers from International Cruise Ships calling at Singapore Cruise Centre and Marina Bay Cruise Centre.
Tourist who enter by Trains and Buses from Malaysia.
There's a Wide choice of Accommodation from Hostels to Luxury Hotels.
Places of Interest cater for Young, Seniors, Kids and Family.
You have to experience the Local and International food which is easily available in every corner.
Explore the Islands nearby Singapore with just a short ferry drive- Pulau Ubin, Kusu Island , Sisters' Islands , St. John's Island, Pulau Hantu.
Visit the Neighbouring Country in a Day trip. Hop on the Buses or Train to Malaysia Or a 45 minutes Ferry journey to Indonesia Batam or Bintan.
Travel Essential
Electricity
Singapore's voltage is 220 – 240 volts 50Hz.Electrical sockets "Type G " British BS-1363
Entry requirement
Check here for Entry Visa Requirements.
Fines
Singapore is sometimes called "The Fine City," DO NOT :-
Buy/sell or chew gum, Feed the pigeons, Eat in the MRT stations, Spitting, Fly Kite in non-fly area, Walk around naked, Use another person's Wi-Fi network, Urine in lifts, Litter, Paint graffiti, Take Drugs, Jaywalk, Smoke in non-smoking area,
GST
Singapore has a 7 percent Goods and Services Tax
On departure you can get  a Tourist refund at the Airport or Cruise Centre 
Important Telephone numbers
Police 999
Fire & Ambulance 995
Non-Emergency Ambulance 1777
Traffic Police 6547 0000
MRT Map
Online To begin, hover over a station to select either your starting point or ending point. Tourist pass is available for public transport network.
Money/Banks/Money changer/ATM
Banks open Monday to Friday 9.30am to 3pm, Saturday 9.30am to 12.30pm. Some Banks open longer hours and also on Sundays (some OCBC Bank Branches)
You can find a number of Legal registered Money changers around Singapore, opening hours are 10am to 10pm
Lots of ATM around, you would easily find 1 in a shopping center.
Shopping hours
Most shops are open from 10 am to 10 pm Except Mustafa Department Store which is open 24 hrs 7 days a week.
Sim Cards
Local SIM cards are available from airport/cruise centers or at any Cheers/7-11 store and Singtel/Starhub/M1 shop. Lots of Price promotion all year round, remember to bring your passport for registration process.
Time
Singapore is 8 hours ahead of GMT (UTC+08:00)
Weather
Singapore's climate is high in humidity with abundant rainfall. The temperature average between 25 degrees Celsius and 31 degrees Celsius. Thunderstorms occur on 40% of all days. Relative humidity is in the range of 70% – 80%.
April is the warmest month, January is the coolest month and November is the wettest month.
PLACES OF INTEREST
Top 12 Singapore Tourist Attractions
Explore
Chinatown
It's also known as"Niu Che Shui"(in the olden days ,bullock carts were used to supply fresh water to its residents).Full of Chinese culture,tradition and festive here.You will find 
The Buddha Tooth Relic Temple and Museum housing the priceless relic(the Buddha tooth).
Thian Hock Keng Temple-a living-monument and architectural masterpiece,since 1840.
Sri Mariamman Temple the oldest Hindu temple.
Visit the Chinatown Heritage Centre and step into the past.There are day and night walking tours that you can join.
Chinatown MRT NE4 DT19 
Bugis
Bugis Street,well known budget shopping area with over 600 shops selling fashion,shoes,accessories,souvenirs and food stalls.
Located opposite is Bugis Junction, where you find the latest trend on sales year round. 
Bugis MRT EW12 DT14
Civic District

 
The Central Area of Singapore.The Asian Civilisations Museum, the Victoria Theatre and Concert Hall, National Art Gallery (the former Supreme Court and City Hall buildings), the Arts House (the Old Parliament House), the Merlion Park (former Queen Elizabeth Walk)and the ArtScience Museum, the Padang, the Esplanade Theatres.
City hall MRT EW13 NS25, Esplanade MRT CC3
Clarke Quay

 
A historical riverside quay at the Singapore River.Here's the place to start your Singapore River Cruise.
A chance to try the G-Max Reverse Bungy or Lockdown Singapore.
You'll find lots of international food,stunning waterside restaurants,bars,clubs and it's famous as a night life spot. 
Clarke Quay NE5
Dempsey Hill
Over 153 years of history read all about it here,
Today it have become One of the Best dining destinations in Singapore. Lots of choices from local to international food, beers, ice creams, special coffee, everything, Just a food paradise. Get a Minibus for a group of 12 and enjoy the night at Dempsey. 
Esplanade Theaters
It's known as the Durian of Singapore.Join the Esplanade walk to find out how the Concert Hall can be tuned to sound like a small room or a huge cathedral
OR you could opt for the Esplanade 2 hrs tour to check out the architectural qualities  and the development of the arts in Singapore.The tour will cover both front-of-house and backstage facilities.
On some weekends you could catch a free performance and have a taste of the local food at Gluttons Bay. 
Esplanade MRT CC3
Joo Chiat / Katong
Home of the Peranakan. Walk along the streets and admire the colorful heritage shophouses.
Your culinary choices are endless, you could find the famous Katong Laksa, 'bak chang' (glutinous rice dumplings) and other Nonya 'kueh' (cakes).
Shop for  'kebaya' and 'sarong', beaded slippers and accessories.Get the Minibus for a group of 12 pax or less to visit.
Kampong Glam -Arab street, Haji Lane
Here you will find Singapore most important mosque, the Sultan Mosque and the former Sultan's palace, Istana Kampung.
Now, the Sultan's palace houses the Malay Heritage Museum showcasing the history and culture of Singapore Malays.
Bugis MRT EW12 DT14
Little India
Indian culture and tradition. Best Indian Fish head curry, Banana leaf rice, Roti Prata,spices, imports directly from India.
The Famous Mustafa Departmental Stores which opens 24 hrs 7 days a week.
Easy accessible by 3 MRT stations: Little India MRT  NE7DT12 , Farrer Park MRT NE8, Rochor MRT DT13.
Marina Bay Sand
Most Spectacular Hotel with the world's largest rooftop infinity pool. Skypark. Skating ring.Casino.
The ArtScience Museum. Over 60 restaurants and bars and 170 premium brand stores.
Enjoy the Free Light and Water Show every night, starts at 8pm. 
Bayfront MRT DT16 CE1
Orchard Road
A shopping paradise ! shop 'til you drop.It's a retail and entertainment hub of Singapore.
A must-visit location for all tourist. Wisma Atria, Orchard Central, DFS Galleria Scottswalk (Duty free), Far East Plaza, Tangs, Ngee Ann City, the Heeren Shops, Mandarin Gallery, Paragon, 313@Somerset Mall, the Centrepoint, Palais Renaissance, Plaza Singapura, and don't miss out ION Orchard and it's ION Sky observation deck. Located on the 56th floor, at 218 metres high, the viewpoint gives 360° views of Singapore-It's Free to go right up. 
Orchard MRT NS22.
Merlion Park
Located in front of Fullerton Hotel and overlooking The Marina Bay.
The Merlion is a Singapore icon. 8.5m-tall, shooting water from its mouth. Half-fish and half-lion.
The body symbolizes Singapore history as a fishing village when it was called Temasek,a 'sea town' in Old Javanese.
It's head represents Singapore's original name, Singapura, meaning 'lion city' in Malay.
The park also have a  'Merlion cub', and it stands at 2 metres tall and weighs three tonnes. 
Raffles Place MRT EW14 NS26
The Museums
Asian Civilization Museum The Museum covers over a span of 2,500 years worth of traditions and cultures of Asia.
National Museum of Singapore Singapore oldest museum.A cultural and architectural landmark in Singapore with important collections of artefacts, the Museum hosts festivals and events all year round.
Lee Kong Chian Natural History Museum The location of the Museum is in the National University of Singapore. The Museum mission – to safeguard the national collection of animals and natural heritage. It's also a research centre for plant and animal collections.
Sun Yat Sen Memorial Hall  Awarded as a heritage site by the National Heritage Board. It shows Singapore's contributions to Dr Sun's revolutionary activities in the Southeast Asian region, and highlights the impact of the 1911 Chinese Revolution on Singapore.
The Mint Museum of Toys This toy museum showcase the vast collection of vintage toys around the world for both adults and kids.
Peranakan Museum The finest and most comprehensive collections and culture of Peranakan communities in Southeast Asia.
Singapore Art Museum It's a contemporary art museum that breathes Art into Life,to think, feel, experience and imagine.
Singapore Philatelic museum Collection of Stamps and archival philatelic material of Singapore and members of the Universal postal union from 1830s to present day.
The ArtScience Museum Located along the Marina Bay waterfront, in Marina Bay Sand. Beautiful building like a Lotus flower-a piece of art ! Available guided tours and hands-on creative workshops.
National Gallery Singapore The newest largest art gallery that had just open.It occupies 2 Singapore former national monuments-the old Supreme Court and City Hall.The Galley house over 8,000 artworks on the history of Singapore and the region from the 19th century to the present-day.
MUST TRY – LOCAL FOOD
Bak Kut Teh – Pork Ribs Soup together with rice or noodles.
Hainanese Chicken Rice – Choice of "White" or "Roasted" chicken with fragrance rice.
Chilli Crab – Finish the crab and dip fried man-tou (buns)in the sauce.
Indian Rojak – There's also Chinese and Malaya rojak too.
Laksa – Peranakan food, noodles in coconut sauce.
Roti Prata – Fried flour pancake served together with chicken/fish curry sauce or sugar.In present days, there's lots of variants include adding strawberries,cheese, eggs, mushroom, chocolates inside the batter.Try the roti prata with ice-cream too!
Satay – BBQ chicken/pork/mutton/beef meat(special marinated) dip into spicy peanut sauce before eating. Sets usually comes together with Ketupat (rice cake), cucumbers and onions.
Fish Head Curry – Cooked in either Indian or Chinese style,Coconut or Assam style. You can choose half or 1 full fish head and it's cooked together with Lady's Finger and brinjal.
Just visit any Hawker Food Center and experience many more Local food. You'll just love it.
A PLACE TO STAY IN SINGAPORE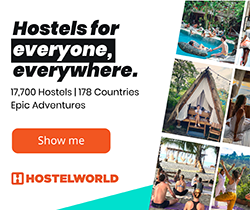 ACTIVITIES & TOURS