Kimchi!

🙂
South Korea has the World's tallest Lego tower. World Largest IKEA.World fastest
broadband service. Highest IQ man in the world. World's longest bridge fountain. World famous K-pop groups. Korean Drama and Mr. Psy Gangnam Style.
South Korea is a four season country with beautiful flowery landscapes (lots of cherry blossom trees), sandy beaches, rocky mountains and UNESCO World Heritage historic sites.
There's also a one stop complex that has information to meet all tourists' needs.An exciting place where you can get all the Korean traditional and culture experience and even learn Korean cooking. Visit the K-Style Hub (케이스타일허브)
Free admission
KTO Seoul Office 2F-5F, 40, Cheonggyecheon-ro, Jung-gu, Seoul
Directions: Jonggak Station (Seoul Subway Line 1), Exit 5. Walk approx. 4min. / Euljiro 1(il)-ga Station (Seoul Subway Line 2), Exit 2. Walk approx. 5min. / Gwanghwamun Station (Seoul Subway Line 5), Exit 5. Walk approx. 8min. 
South Korea is well know for its City Tours, Subway Tours,Temple stay, 2 tourist trains O-Train and the V-Train, Trekking and Hiking , Spas and Hot springs, Skiing resorts, Medical Tourist, the Demilitarized Zone (DMZ) Tours.
Travel Essential
Electricity
South Korea's voltage is 220V, 60Hz (C & F type "German" plugs)
Entry requirement
Check here for Entry Visa Requirements.
Consumption tax
South Korea has a 10 percent VAT. When shopping you would need to pay for the items together with the Tax and then proceed to the Customer service desk/Tax refund counter with your passport to obtain a tax refund or at the airport before your departure. Or you can shop in Duty Free Shops.
Important Telephone numbers
Police 112
Fire & Ambulance 119
Medical Emergencies 1339
Tourism and Translation Service 1330
Trains Systems
Train network operated by KoRail Seoul, Busan, Daejeon, Daegu, Gwangju and Incheon have subway system(metro)and is cheap and convenient to get around in theses cities,the signs and station names are in English as well as Korean, it is easy to use.
You could also buy the rechargeable, touch-and-go T-Money Card for bus, subway, taxi and train fares.There's a ₩100 discount per trip.

Money/Banks/Money changer/ATM
The South Korea currency is the Won (₩, KRW).You can find lots of foreign exchange shops in Seoul @ Myeongdong, Dongdaemun, Insadong and Itaewon(Most Tourist area) or Banks. It is advisable to keep cash at hand when visiting rural areas.
Shopping hours
Korea a shopping paradiase especially Seoul.
Insa-dong Street-9.30am to 6.30pm Korean traditional culture and crafts
Myeongdong-9am to 10pm Skincare/Cosmetics Product (ladies paradise)
Dongdaemun-10am to 5am Korea's largest wholesale and retail shopping district featuring 26 shopping malls, 30,000 specialty shops, and 50,000 manufacturers.
Namdaemun Market-Traditional Market with 600 Years of History
Munjeong-dong Rodeo Street-Over 200 stores line the streets selling men's and women's suits, casual wear, sportswear, and shoes.
Hongdae-Center of Korea's youth culture and is well-known for its bustling club scene.Many shops to sell a variety of goods such as fashion items, accessories, stationery supplies, furniture open up around 1pm
Ewha shopping area-young women's fashion.
Apgujeong and Cheongdam-dong-Main shopping districts for the rich in Gangnam.
COEX Mall-Asia's largest underground shopping complex. Check out Hyundai Department Store and COEX SKM Duty Free Shop.
Sim Cards
There's lot of telecom companies promotions and you could easily choose the best offer, just pay in advance and either collect it at the airport on arrival or arrange it to be deliver to your hotel or place of stay. Pocket wifi rental is good for travelling in South Korea.
Time
South Korea is 9 hours ahead of GMT (UTC+09:00)
Weather
Spring -March to May,sweet scent of the blossoms (beautiful cherry blossoms and flowers viewing).
Summer -June to August,its hot and humid (Lots of music events,festivals and Seoul Summer Sales).
Autumn -September to November,nice weather beautiful scenery (where the leaves changes its colours).
Winter from December to February, is icy cold and dry(good for skiing and winter trips).
Well what's the best time to visit would depend on what you want to see or enjoy.
PLACES OF INTEREST
Top 10 South Korea Tourist Destinations
SEOUL
Seoul, the Capital of South Korea.A mixture of modern and historical places.
A shopping and holiday paradise for young and old.Pop Culture,High-tech skyscrapers,Subways for shopping, Palaces, Buddhist temples,Heritage Historical sites,Bukchon Hanok Village.
Street markets that opens until 5am.Amusement/Theme parks,Ski Resorts,Hot spring and spa,Kimchi,Korean ginseng,

BUSAN
You can go to Busan by ferry if you are at Fukuoka Japan.
Busan is a large port city.It have lovely seaside resort at Gwangalli Beach with its fine sand, the Jagalchi Fish Market (the largest seafood market),Beomeosa Temple which is a 1,300 year old temple,Haedong Yonggungsa temple built in 1376,SEA LIFE Busan Aquarium,Taejongdae Park,Haeundae Beach,Gamcheon Culture Village.

DAEGU
A popular palace for the young as there's lots of exchange students and English teachers.
Daegu is well known for its local medical tradition history do visit the Daegu Yangnyeongsi Oriental Medicine Cultural Center,other top spots is Gyeongsanggamnyeong Park, Daegu National Museum,Seomun Market(over 4,000shops),Donghwa Temple,Apsan Park,Daegu Arboretum,Gyesan Catholic Church,E-World (Theme Parks),Herb Hillz.
INCHEON
3rd largest city in South Korea. The world best Incheon International Airport with a spa,golf course,an ice skating ring and a casino not forgetting the duty free shops.
Direct railway connections to Seoul. Incheon Top 5 destinations Yeonan Pier,Incheon Fish Market (boat tours),Chinatown, Jayu Park,Bupyeong Ungerground Shopping. Islands/beaches -Wolmido,Yeongjong and Muui-dong.

DAMYANG
A beautiful Bamboo Theme park, a bamboo museum and bamboo festival.
There's you can find numerous bamboo kitchen supplies, gifts, bamboo wine or ice cream. Also strawberry's farms, where you can pick your own strawberries. A famous 2 km stretch of metasequoia trees. The leaves will turn bright orange/yellow colours in late Oct to early Nov,
It' s picked as most beautiful road in all of Korea. You could go hiking at the mountains of Byeongungsan and Chuwolsan.
DEOKJEOKDO
70 km northwest of Incheon's Yeon'an Pier.You can either go from Daebudo Island 2-hour ferry or Incheon's Yeon'an Pier daily by Jinri Ferry.
There you will find Relaxing beaches(2 sandy-Seopori and Batjireum and 1pebble – Jagalmadang), hiking routes up to 1 of the 2 peaks on the island,a beautiful pine forest where you can enjoy a shady walk.A nice place to spend a weekend.It's good for cycling around the Island too.
JINHAE
Very famous for it's annual spring cherry blossom festival. In Spring, the city's cherry blossom trees will be in full bloom for 10 days.
The best viewing spot is by the Gyeonghwa Station, there's a long stretch of cherry blossom trees.
During the festival there's cultural performances, art, and parades. Annually the festival attracts more than 2million visitors.
GYEONGJU
Is known for it's historical remains-a UNESCO World Heritage Site. A 8th century Bulguksa Temple-twin stone pagodas, a series of wooden staircases and a large bronze Buddha. Seokguram Grotto-a towering seated Buddha with panoramic views of the sun rising over the Sea of Japan.
The Royal Tombs. The Gyeongju National Museum with more than 16,000 artifacts.Donggung Palace and Wolji Pond, It was part of the palace complex of ancient Silla.
BOSEONG
The Green tea farming capital of South Korea.Developed over a 1,600 year history and is known for its high quality. Daehan Dawon Tea Plantation, here you can see traditional terraced farmlands with local women hand picking the tea leaves.
Beautiful mountainous landscape, with cedar tress at a height of 20 meters.Try the cold green tea noodle soup and green tea ice cream.
There's 2 major festival- No.1. Boseong Green Tea Festival, a great event where you will get to sample green tea and experience the tea culture.No.2. Boseong Green Tea Plantation Light Festival(around 16 Dec to New Years day) green tea fields at Korea Tea Culture Park and Yulpo Beach (Solbat Beach) will be light up.
Visit Yulpo Nokchatang,(Yulpo Beach), try the unique spa experience-Seawater and green tea. Have a spa and enjoy the beautiful view of the pine tree forests and the ocean.
JEJU ISLAND
Honeymooners loves this island. Beautiful Jungmun beach, Lotte Hotel Jeju ( Vegas-style pool area complete with fake cliffs, swan-shaped pedal boats and a Dutch windmill), Loveland (adult theme park). Olle coastal trails (cycle tracks), Hanwha Therapy Resort, Jeju Waterworld (herb sauna and outdoor spa), Rapeseed flowers, Grandfather stones,
Haenyeo (sea woman who dived the bitterly cold East China Sea,in search of seaweed and shellfish since at least the 17th century).
Hallasan (the highest mountain in South korea,a dormant volcano,ideal for hiking. At the top is the crater of an extinct volcano), Sunrise Peak (Seongsan Ilchulbong), Manjang cave (Lava tubes),The Cheonjiyeon waterfall.
In Jeju, must try the seaweed and sea urchin soup,raw seafood, pheasant,grilled mackerel in sea salt,black pigs BBQ pork,potato pancakes.
Had Fun in Korea ? You are always welcome to share your travel story in the comment below OR share our page with your friends and family -just click on Social buttons below.
A PLACE TO STAY IN KOREA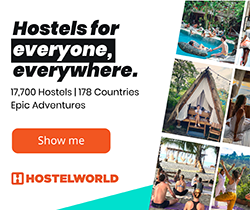 ACTIVITIES & TOURS