Vietnam Top Destinations
Dalat
Dalat is the capital of Lâm Đồng Province in the south of Vietnam. It's also known as "City of Eternal Spring" for it cool weather, 4,900 feet above sea level !
Lakes, golf course, hills, pine forests, waterfalls.French colonial heritage remains. Lots to see and enjoy in the cool.
Dalat Top Tourist Destinations:
Truc Lam Temple
A Zen Buddhist Temple about 5 km just outside of the city centre. Take the cable car up to the temple, you'll have a beautiful view of the gorgeous pine forest below.
In the Temple ground you will see beautiful sculptures, gardens, and the lake.
It's such a peaceful place here, perfect for meditation, just arrange with the master monk, for a mediation session, if you arrive early.
Spend some time here to relax and enjoy the peaceful surroundings.
Linh Phuoc Pagoda

A Pagoda art piece about 8 km from the city centre. Interesting building that is decorated with broken mosaics, glass & pottery shards.
There's a 36 meter tall tower with a 8.5 tons bell.
In the garden there is a 49 meter flying dragon statue with its scales decorated with 12,000 broken glass beer bottles.
Beside the dragon's body there's a small lake with the statue of Maitreya Buddha.
A sanctum 33 meter long, 22 meter wide with 108 Buddhist statues.
Right in the centre is the 4.9 meter high Shakyamuni Buddha sitting on the lotus.
Behind is for worship of Bodhidharma and 18 Arhats.
A spectacular beautiful pagoda.
Datanla waterfall
A nice waterfall, just 15 minute from the city centre but with lots of Tourists. A very pack place for the adventurers ! Roller coaster, Cable car and Cannoning.
As there are many tourists and locals, please do take extra care when walking as the rocks can get slippery. The place is not suitable for seniors.
Hằng Nga guesthouse /"Crazy House"
Photo by Tom Ravenscrodt/CC by
One of the Strangest, Craziest and Famous Architecture in the World by Vietnamese architect Đặng Việt Nga.
Entrance Tickets:
Adults 40,000 VND. Children 10 to 15 yrs old 20,000 VND. Below 10yrs old FREE
Stroll around, Good place to play Hide and Seek, Climb winding stairs, Explore this unique place. Just a note, do be careful especially if you are with kids, as the place lacks safety barriers. A place not recommend for Seniors
There's one small and cozy cafe in the garden, just relax and enjoy.
If you decide to stay for the night, just rent one of the rooms. It's a guest house too.
Elephant Falls
Photo byIan Armstrong/CC by
Elephant Falls is also know as Lieng Rowoa Waterfall. Why is it called the Elephant Falls ?
It's because there's a large rock that resembles an elephant's head ! Well, look out and see if you could find the rock when you visit.
To get to the best spot, squeeze yourself through a cave and you will get behind the falls and be doused with fall spray-free shower ! Just be very careful of the uneven, slippery stone steps.
Golden Valley

Flowers every where, beautiful garden, pine forest and a lake.
Clean and a relax place where you could take your time, have a stroll, feed fish, have a tea and take lots pictures. There are shops and cafes to enjoy and relax.
Tourist resorts Valley of Love (Thung Lung Tinh Yeu)
Photo by calflier001/CC by
6 km from Dalat city. A magnificent beautiful romantic park filled with flowers and fantastic views.
You can spend the whole day here and enjoy the huge park, either by walking or take a shuttle around. There's many small cafes and souvenir shops too.
Have fun at the nice maze, a ride on the horse, a jeep safari or go on a motorized and peddle swan boat on the beautiful lake. It's a wonderful park for the families and couples.
Dalat Flower Garden
2km from Dalat city. 11 hectares park filled with beautiful flowers, bonsai trees, flower beds, roses in green house.
Enjoy the lovely scent smell of the flowers as you stroll around. You must visit this place if you loves flowers, its so colourful, and beautiful for your photos !
St. Nicholas Cathedral/St Nicholas of Bari Cathedral
Photo By:Bùi Thụy Đào Nguyên/ CC by
A Roman Catholic cathedral, built in the year 1931 and was completed in 1942.
70 stained glass windows were brought directly from France for the building and this is the largest church in Dalat. It's also known as Chicken Church because there's a chicken statue on top of church cross.
Outside the Cathedral gates, you will see the statue of the Virgin Mary.
At Christmas, thousands of worshippers will be inside and around the cathedral to celebrate.
Check this out – DALAT COUNTRYSIDE ONE DAY TOUR
Dong Hoi
Capital city of Quang Binh Province in North Vietnam. It's easy to reach Dong Hoi as the city is a major train stop on the North-South railway, from Hue, local buses take about 3-4 hours. Dong Hoi has an airport too.
Dong Hoi Top Tourist Destinations:
Phong Nha Caves
Photo by:Dzung Tran/CC by
A huge cave in Phong Nha-Kẻ Bàng National Park (UNESCO World Heritage Site).
The cave is famous for its rock formations and is voted for the most wonderful caves in the world :
longest underground river,
most beautiful underground lake,
highest and widest entrance,
most beautiful and widest dry cave,
most beautiful sandbank and reef,
most spectacular stalactites, stalagmites and longest water grottos
Bai Da Nhay (Jumping rock beach)
Sunset the beach 
A beautiful beach, 40 km north of the city near Phong Nha caves. You can visit and relax at this beautiful beach after the cave tours.
Go to the top of the hill for a fantastic view of the beach.
The beach is famous for it unique rocks formation and fine beach sands with clear blue water.
Enjoy a swim and have a meal of Fresh seafood at the seafood restaurants.
Stay the night and watch the beautiful sunrise the next morning.(A picture you should not miss).
Halong Bay
There's thousands of limestone islands in the Bay and is a declared UNESCO World Heritage Site since 1994.
It's Only 4 hours from Hanoi to Halong Bay, which is famous for scuba diving, rock climbing and hiking.
You also have a wide choice of Cruises to venture around the Bay.
Halong Bay have received Top Googles reviews and it's One of the best destinations in Vietnam not to be miss.
Choice of Bay Cruises and Activities
Hanoi
Photo by:helloandrew/CC by
The capital of Vietnam, an ancient capital with well preserved Old Quarter, monuments and French colonial architecture.
Its streets filled with scooters with constant blaring horns, it becomes part of the Hanoians daily routine.
For Hanoi Hotel Deals, Click Here 
Hanoi Top Tourist Destinations :
Photo by Michael Coghlan/CC by
A prison that had gone through a history of Wars, it was built by the French colonialist in 1899.
The long and painful history of the prison – overcrowded, inhumane, torture, execution.
From 1899, It's used by French to the capture numerous Vietnamese political fighters who are against them. The French called the prison"Maison Centrale"
During World War II where the Japanese were fighting the French. Its during this disorder time a historical prison break occur.100 patriotic political prisoners exchanged prison uniform with daily clothes from visitors and walk out of the prison and escaped!
In 1954, The French was defeat at the battle of Dien Bien Phu and left Hanoi. Hoa Lo Prison now under the Democratic Republic of Vietnam. The prison was then used to served as an education center for revolutionary doctrine and activity.
Then during the Vietnam War, the North Vietnamese Army used the prison to torture and interrogate captured US servicemen, most of the POWs were injured pilots. American POWs had sarcastically name Hoa Lo Prison as "Hanoi Hilton"
Also, any political prisoners or spies from South of Vietnam, who were against the Communist Party were severely torture in the prison too.
After 1973, the prison is still in use for criminal prisoners, until 1994 wherethe prison was moved to the outskirts of Hanoi,only a part of the prison were remained and preserved as the museum.
A Confucian temple with spacious five courtyards – two huge beautiful landscaped gardens, a large pond called Well of Heavenly Clarity and next is the Sage Courtyard to worship Confucius, and for the ceremonies. In the last courtyard, you could find a large drum and the bell tower.
The temple is an important Hanoi's cultural site, with preserved ancient Vietnamese architectural styles of many dynasties as well as precious relics.
It was built in 1070 and is Vietnam's first national university the "Quốc Tử Giám" or Imperial Academy.
Have a look on the back of a 100,000 Vietnamese dong, you could find the temple of Literature and if you happen to visit the temple just before the Vietnamese New Year celebration, you will find lots of calligraphists outside the temple and writing New Year wishes in Chinese characters. These will be given away as gifts or as home decorations for New Year for good luck.
It's easy to visit the Temple of Literature from Ba Dinh Square or the Presidential Palace and Vietnam Fine Arts Museum, it's just a short walk away.
Hoan Kiem Lake
In the centre of Hanoi.
"Lake of the Returned Sword" a get away place from the city, it's peaceful, quiet and you can find a pagoda in the centre on a small island on the lake, it's the Ngoc Son Temple.
You can find lots of locals jogging, dancing or simply having a good time together with the family.
There's many interesting activities during the weekends too. A nice place to relax and enjoy.
Heritage House @ 87 Ma May Street
From Hoan Kiem lake, you can walk to Heritage House in less than 10 minutes.
It's an ancient preserved merchant house with typical architecture, built around the end of 19th century.
Very detail and interesting overview of 54 officially recognized Vietnam ethnic groups.
You can find the exhibit of the ethnic folk art, actual real traditional houses, the various tribes' life styles with maps and histories of the individual ethnic groups.
On the ground floor there's a water puppet theatre in traditional style. Daily Show time at 10 am, 11:30 am, 2:30 pm, and 4 pm.
This a wonderful opportunity to enjoy the folk art of water puppetry performs by fifteen water puppet troupes of the different villages coming from the North.
Bach Ma Temple
One of the oldest Buddhist temple in Hanoi, founded in 1010.
It's a small, beautiful and well-maintained temple and you can experience the local's beliefs here.
Have a look at Vietnam past. The Museum is filled with lots of artifacts, stone, wooden statues and there's an underground bunker too.
Ho Chi Minh City

Was know as Saigon, with a long history of the Vietnam War.
Saigon was once under French rule, thus there's a number of wonderful French colonial landmarks – the famous Nortre-Dame was build with materials imported entirely from France and the 19th Century Post Office.
Now Saigon is renamed as Ho Chi Minh City, a fantastic busy financial hub with its streets fill with non-stop traffic and lots of food stalls. 1 thing you must try, it's the Vietnamese Coffee – you'll just love it !
Best Ho Chi Minh City Stay Deals !
Ho Chi Minh Top Tourist Destinations :
Exhibits relating to Vietnam War and the first Indochina War.
A huge location with the war plane models exhibits outside.
The Museum had kept well recorded records of news clippings, photographs and information's on the happenings during the War.
Do take note that some exhibits might be too graphic, as it delivered the hard truth with explicit pictures and real details of the War.
Củ Chi Tunnel
An hour drive from Ho Chi Minh City. An impressive network of connecting underground tunnels used by the Viet Cong Soldiers.
These communist soldiers plan and build these massive tunnels to fight the Americans and South Vietnamese forces during the Vietnam War.
What you see today is only a part of the massive underground tunnels built over a period of 25 years from the late 1940s.
At Cu Chi you could have a game at Sport Defense Shooting, Paint shooting, or have a swim at the modern swimming Pool surrounded by nature.
If you like you can go for Swan Pedal or kayaking.
Single or double Bicycles are available for cycling around too.
How about a camping picnic by the riverside or Saigon lakeside if you plan a longer stay.
Hungry just proceed to Ben Duoc Restaurant & Ben Dinh Restaurant, they serve delicious local food and with affordable prices. Very polite, considerate and good service.
There's also a 4D cinema and you can get your gifts and Souvenirs in the nearby shop.
Once you enter the gate, you can use the Trams to go to the sights.
Do not miss this very interesting place, lots of tours to Cu Chi Tunnel at USD 20 only .
Independence Palace
It is build in 23 February 1868 and completed in 1871 by the French.
It's know as the Norodom Palace until March 9th, 1945 where the Japanese overthrew the French and it became the Headquarters of the Japanese Government.
In September 1945, the French defeated the Japanese and Norodom Palace was again the Headquarters of the French Government.
In 1954, Vietnam overthrown the French Government and NORODOM Palace was rename as the Independence Palace which became the residence for the first prime minister of Republic of Vietnam. Thereafter a series of power struggle between the Vietnamese until 1975.
At present, it's a popular Historical Relic landmark which is visited by many foreign and domestic tourists.
Bến Thành Market

A huge market in the centre of the city it's at the Intersection of Le Loi, Ham Nghi, Tran Hung Dao Avenues and Le Lai Street.
Lots of Handicrafts, Souvenirs, Clothing, Arts, Local eats, Everything Vietnamese you could find it here. Please do negotiate price before buying any items.
You could also find lots of spa where you could get cheap manicure, pedicure, or a full body massage. Pamper yourself and enjoy.
Want some adventure round the city ? Best to try out the 4 hour private, cyclo tour
When you are in Vietnam you should not miss the special puppet show (only found in Vietnam), a Vietnamese traditional entertainment.
Its on daily with a 50 minute performance at the Golden Dragon Water Puppet Theater.
A magical world of wooden puppets diving and splashing across a water stage with narration and music by musicians and singers seated at side of the stage.
Go for the package : Special Water puppet show and Saigon River cruise with Dinner only at $45.
What about having a Cocktail with a 360 degree views, from the bar on the 50th floor of Saigon Skydeck
– relax and enjoy.
Hoi An
Hoi An, a well-preserved Ancient Town with Chinese temples, Japanese bridge, French-colonial houses and exciting rows of historical wooden shop-houses by the river canals.
Lots of colourful handmade unique Lanterns are hang along the streets, when night falls it turns into a beautiful romantic sight along the riverside. Love the Lanterns? you can actually make your very own unique lantern too and bring it home as a souvenir or gift.
You can find very cheap, nice and tasty Vietnamese food and go with super cheap beer (below USD1)
There's lot of accommodation, from Budget to 5 stars Hotels hotel link. It's a Top Tourist Destination and a declared UNESCO World Heritage Site.
Da Nang

Da Nang is in midway between Hanoi and Ho Chi Minh City. It's well known for its white sand beaches,
Da Nang Top Tourist Destinations:
My Khe Beach

20-mile stretch of white sand with top class resorts, seafood restaurants.
Beautiful place for sunbathing, fishing, snorkeling, jet-skiing, and wind surfing.
Book your resort stay at My Khe Beach and visit the nearby place of interest – the ancient port town of Hoi An, the mysterious Phing Nga Caves, the imperial city of Hue. A perfect location.
There are direct international flights to Danang International Airport and from the airport to the beach it only a 25 minutes taxi ride.
Non Nuoc Beach
Photo by : Vyacheslav Argenberg /CC By:
Just further from the city a 20-minute drive, you will find Non Nuoc Beach which is international know as one of the most beautiful beaches in the world.
The Beach is filled with soft white sands, clear blue waters, mild waves and you can enjoy plenty of leisure activities such as sunbathing, jet-skiing, surfing.
Here you could find the rarest and precious seaweeds in the world, with high exporting values.
Non Nuoc Beach spread more than five kilometers of coastline and end at the foot of Marble Mountains. Another interesting site with ancient pagodas, sacred caves, and handicraft villages
You can book Non Nuoc Beach accommodations here.
Marble Mountains
Photo by : Andrea Schaffer/CC by:
A group of 5 marble and limestone hills named after 5 elements: Metal, Water, Wood, Fire, and Earth located in south of Da Nang.
Take the lift up halfway of the mountain and you will see some really interesting, caves, temples and pagodas.
Click here for Marble Mountains Tours and Activities.
Son Tra (Monkey) Mountain

It's a 693 meters above sea level beautiful national park. Just a half and hour drive from Da Nang.
Here you can find two radar domes as well as a helicopter pad, a cool look out point with panoramic views of Hi Van Mountain, Cham Island, Da Nang City and Son Tra Peninsula.
On this mountain, there's a stunning 18th century pagoda known as Linh Ung Pagada
Here you will find the 67 meter tall white statue Goddess of Mercy set atop a lotus shaped platform.
Within the structure there are 17 levels and a total of 21 miniature Buddha.
Its Free entrance but could get very crowded on Goddess of Mercy special praying days.
Dragon Bridge
Photo by : tuankiet65/ CC by:
A spectacular Dragon shape bridge over the River Hàn and is the longest bridge in Vietnam. 666 meters in length all light up and you will not miss it when in Da Nang as its the gateway to My Khe Beach and Non Nuoc Beach .
Da Nang Cathedral

A pink church in centre of the city with a weathercock on the top.
To the Vietnamese it's known as Con Ga Church – the Rooster Church.
It is the only church in Da Nang and was build in 1923 during the French colonial period.
Hue

Hue is declared as an UNESCO World Heritage Site, a historical imperial city with a long and interesting history of the Nguyen Dynasty.
It is in the bank of Song Huong also known as the Perfume River.
The main attraction is the vast 19th century Dai Noi Citadel surrounded by a moat and thick stone walls, inside it's the historical Imperial City once the emperor's home.
Check out all Activities and Tours for Hue here.
Hue Top Tourist Destinations :
Dai Noi Citadel
Once a capital of Southern Vietnam during the 17th and 18th Century.
It's surrounded by a moat on the bank of the Perfume River. Inside the Citadel is the vast Purple Forbidden City.-palaces and temples.
Tomb of Tu Duc
Emperor Tu Duc, is the longest reigning ruler in the Nguyen Dynasty.
He actually designed his own tomb with elaborate grounds which include a lake and a tiny island, but in the end, the Emperor chose to be buried in a secret location in Hue and is yet to be discovered.
Thanh Toan Bridge

An 18th century classic Japanese footbridge just few kilometres outside of Hue.
The bridge was build to unite the Japanese and Chinese who was living on the two sides of the villages.
It's a quite and peaceful countryside where you can observe locals gathering.
Go for a Hue Adventures – Motorbike & Jeep Tours and explore Hue for the day.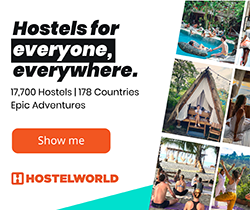 ACTIVITIES & TOURS